SW-3101 Mastopathy Treatment Apparatus
Mastopathy treatment: Mastitis, lacteal painful disease, breast lobular hyperplasia of breast benign disease. Breast care: Adjust the postnatal lack of lactation, abundant breast the body.
Introduction
SW-3101 Mastopathy Treatment Apparatus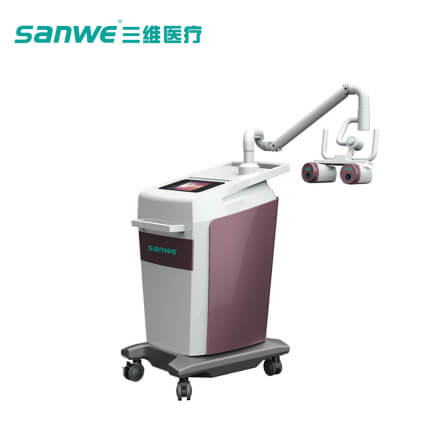 1.Product Introduction
SW-3101A Mastopathy Treatment System is the international advanced treatment technology for breast benign disease.It is an efficient, safe and painless integrated treatment system with lightning wave,luminous energy, drug iontophoresis and simulation massage. It also has the four models of Lightning dredge, luminous energy resonance,targeting drug delivery and 5D simulation massage.They can successfully reach the effect of dredging circulation target regeneration. Meanwhile, appling appropriate treatment mode to the different conditions,it changes the traditional single treatment method and opens a new route for the treatment of mammary gland.
2.Applicable scope
Mastopathy treatment: Mastitis, lacteal painful disease, breast lobular hyperplasia of breast benign disease.
Breast care: Adjust the postnatal lack of lactation, abundant breast the body.
3.Therapeutic Function of Principles
1).Lightning Dredging
Lightning wave rapidly infiltrate into lactiferous ducts through the electrode,which will disintegrate lesions and discharge rapidly.Meanwhile,it will enhance the enzyme activity and accelerate the glands' rapid cycling, so as to solve all kinds of breast benign disease caused by the breast block.
2).Luminous Energy Resonance
Certain wavelengths of light penetrate through the breast of 30-80MM.It can directly enter into glands to produces light wave resonance, which increase the circulation of the blood and lymphatic system, activate the breast tissue metabolism and enhance microcirculation function.
3).5D Simulation Massage
Simulation massage through the electrode can stimulate the pituitary gland to secrete hormones, make mammary gland vasodilation and permeability enhancement.Meanwhile,it can awaken the glands dormant cells to promote the secondary development of the breast.
4.Therapy Effects
1).Dredging Effects
2).Circulation Effects
3).Target Effects
4).Regeneration Effects
5.Delivery detail:  
1).The products can be shipped by air or sea for you;
2).The products are supplied with standard export package;
3).No matter what delivery way, all depends on your actual requirements.
6.Our advantage: 
1).Top Quality:Strict quality control system is supplied before shipment;
2).Excellent Service:Clients are treated as friend and quick response within 24 hours will be supplied;
3).OEM Accepted: Your logo can be added on the products;
4).Competitive Price:We always ensure high price performance to benefit our customers;
5).Timely Delivery:Normally the order shall be delivered 3-5 working day after payment.
7.Our Service
1).Per all your inquires about our products, you will be replied in detail within 24 hours;
2).Our professional team have professional attitude to recommend and supply the products and services with good quality and competitive price;
3).Our products have various type and  function, We will recommend the suitable one to you according to your requirements ;
4). We offer OEM services. We can print your own logo on the product.
5). We have very experienced engineers, can help you better use our product.
Your satisfaction is our duty!It will be our great honor to serve you.We do hope we can offer you more help in medical field and build the long term business relationship with you.
Specifications
Standard Configuration
Main unit      1 set
Electrode line   1 pc
Consumable   10 pcs
Others
Warranty:18 monthes
Payment term:T/T in advance
Delivery period:3-5 day after payment
Related products
message
Find all our constructive solutions to carry out your projects. Know the technical specifications of each product here.